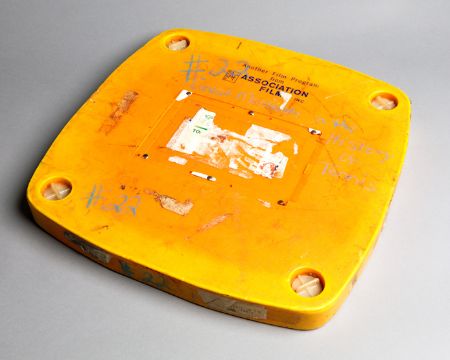 Click on the image to see full size
Use mouse wheel or two fingers to zoom in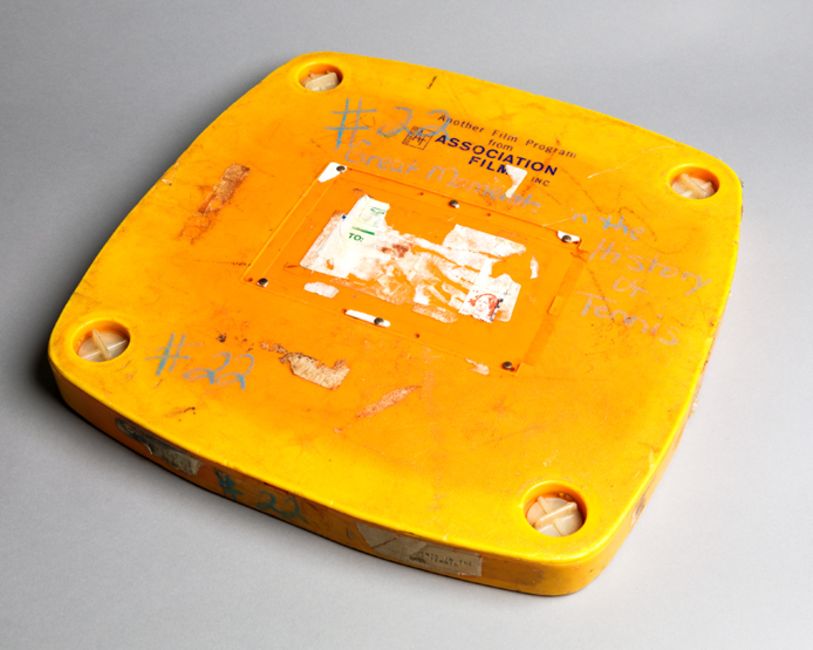 Live auction
Lot closed
Lot location
London
16mm Sound Lawn Tennis Film, Extremely Rare Film "GREATEST MOMENTS IN THE HISTORY OF TENNIS" - Superb Black and White 16mm cine film on a spool (1967). 40 Minutes in Duration, Supplied with a DVD copy. Narrated by Chris Schenkel. The whole film projects a strong 'Davis Cup' theme throughout and is excellently presented and produced with very good sound and quality. The Introduction explains game's origins in 1874 with photos of Major Walter Clopton Wingfield's first rules booklet 'Sphairistike', and how the game progressed in America with Sears, Whitman, Ward and Davis with The Davis Cup Trophy. Important early action shows Molla Burjsdat playing May Sutton in 1915 , followed by scenes of Sutton with hers sisters Violet, Ethel and Florence Sutton in an exhibition game. Early scene of some tournament doubles follows. Socialising at Newport Casino (c.1910) and a tennis singles possibly showing Harold Hackett. (with necktie around forehead) Then 1914 West Side Tennis Club Forest Hills - extensive coverage of Norman Brookes against William Tilden. Most importantly, WONDERFUL Full and slow motion footage of Suzanne Lenglen Leaping around the court "Turning the game of tennis into a graceful ballet." followed by footage of her game at Forest Hills against Molla Burjsdat Mallory. Aerial footage of the indoor Professional Tennis Tour shows slow motion footage of Big Bill Tilden. Forest Hills 1919 posing with little Bill Johnston and match play. There's footage of Dick Williams and Vinny Richards playing Bill Tilden- Tilden with national Trophy - Dick Williams playing Henri Cochet, Rene Lacoste and Tilden. Jean Barotra with Jacques Brugnon 1927 Davis Cup against Tilden and Frank Hunter at Germantown Cricket Club, Philadelphia and Lacoste versus Tilden. Also Little Bill Johnston and Henri Cochet. A plethora of slow motion and real time footage of over 70 famous players follows, including: Cochet, Perry, Anita Lizana, Jadwiga Jedrezjowska (Poland) Alice Marble, Kay Stammers, Sarah Palfrey, Helen Jacobs, Kitty Godfree, Pauline Betz, Gussy Moran, Elsworth Vines, Jack Crawford, Bunny Austin, Don Budge, Bobby Riggs, Frank Parker, Adrian Quist, John Bromwich, Gene Mako, Baron Godfried Von Cramm, Henkel, Joe Hunt, (Killed in a wartime plane crash), Jack Kramer, Ted Schroeder playing without shoes! Dinny Pails, Pancho Gonzales v Ted Schroeder, Pancho Segura, Bill Talbert, Gardner Mulloy, Bill Sidwell, Frank Sedgman, Adrian Quist, Budge Patty, Frank Sedgman, Jaraslov Drobny, Ken Rosewall at Wimbledon. Lew Hoad, Tony Trabert, Vic Seixas, Louise Brough, Margaret Dupont, Mrs. Jean Bostock, Mary Halford, Maureen Connolly, Angela Mortimer, Althea Gibson, Shirley Fry, Maria Aster Bueno, Darlene Hard, Billie Jean Moffat, Rod Laver, Rafael Osuna, Harry Hopman watches Emerson and Fraser v. Sirola and Pietrangeli, Chuck McInley, Fred Stolle, Chuck McInley, Dennis Ralston, John Newcombe and Manuel Santana. The conclusion shows Trabert, Talbert, Seixas, King Gustav, (Left -handed) Charlie Chaplin, Groucho Marx, Governer Adlie Stevenson, and Prince Aka Hito (Crown Prince of Japan).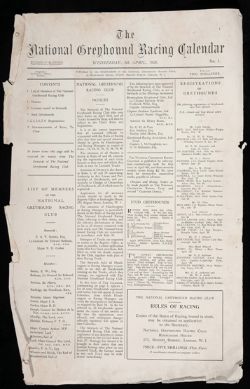 Venue address
Sotheby's
34-35 New Bond Street
London
W1A 2AA
United Kingdom
Sporting Memorabilia
Auction dates
Nov 10, 2014 10:30 AM GMT
Nov 11, 2014 10:30 AM GMT
| | |
| --- | --- |
| Auction currency | GBP |
| Accepted cards | |
STORAGE, COLLECTION AND SHIPPING LOGISTICS
Payments in person can be made in the saleroom on the day of the auction and on receipt of cleared funds, lots can be collected from the saleroom during the auction or immediately after its completion.
Thereafter, all purchase lots will be transferred to Graham Budd Auctions' storage facility in Enfield, north London. Please contact the auctioneer for full details. All collections are strictly by pre-arranged appointment. Alternatively, we can organise packing for postage and shipping on a worldwide basis. Please contact us for a quote. Buyers are reminded that it is their responsibility to comply with UK export regulations and with any local import requirements.
IMPORTANT INFORMATION FOR BIDDERS & BUYERS

Conditions of Business

All lots are offered subject to Graham Budd Auctions Ltd's (GBA) Conditions of Business.

Starting Bid

For each lot there is a published minimum starting bid.

Buyer's Premium & VAT

A buyers premium of 17.5% is applicable to all lots in this sale.
The buyers premium is subject to VAT at the standard rate (20%). Lots are normally offered for sale under the auctioneers margin scheme and VAT on the buyers premium is payable to all buyers. Lots subject to VAT will include the symbol †.
These items will be charged at the 20% on both the hammer price and the buyers premium



Pre-Sale Viewing

For invited guests to the event, all lots will be available for viewing prior to the auction. Absentee bidders should contact the auctioneer if further information is required.

Bidding in Person

To bid in person, invited guests must register to obtain a bidding number. Before the auction, registration forms will be provided and upon completion you will be given a numbered bidding paddle. All lots sold will be invoiced to the name and address in which the paddle has been registered. Please hand back the paddle to a member of staff after use.

Absentee bidders

The auctioneer will be accepting bids from absentee bidders. All bids must be submitted in writing in good time by post, fax or e-mail. Additionally, there will be a telephone bidding facility, but subject always to the availability of lines & staffing. These services are offered free of charge and are subject to our Conditions of Business, which can be read in full at our website www.grahambuddauctions.co.uk. Please contact the auctioneer if you require further information.

Online Bidding

The auctioneer will also offer an online bidding service, free of charge, via the-saleroom.com. In completing the bidder registration on www.the-saleroom.com and providing your credit card details and unless alternative arrangements are agreed with GBA you: authorise GBA, if they so wish, to charge the credit card given in part or full payment, including all fees, for items successfully purchased in the auction via the-saleroom.com, and confirm that you are authorised to provide these credit card details to GBA through www.the-saleroom.com and agree that GBA are entitled to ship the goods to the card holder name and card holder address provided in fulfilment of the sale.

Payment

Payment is due in sterling immediately after the sale and before purchases can be released. Payments in person can be made in the saleroom immediately after the auction, after this payments must be made by post, card transactions by telephone or electronic transfer to our bank.

Methods of Payment

Graham Budd Auctions Ltd welcome the following Methods of Payment:

Credit/Debit Card

We are pleased to accept major credit cards (regrettably we are unable to accept American Express card payments), for which a surcharge will be made of 3% of the transaction total. This is to cover the charge made to us by our bank. There is no charge for payments made by debit card.

Sterling Bankers Draft or Building Society Sterling Cheque

Drawn on a recognised UK bank or building society. Please note that the auctioneer requires seven days to clear sterling cheques and we always reserve the right to hold goods until a cheque is cleared. This policy can only be overridden if the auctioneer receives authority otherwise from the Charity for which it is acting as agent in this auction.

Cash

Cash payments will be accepted up to a maximum of £6,000.

Electronic Transfer

Our bank details are:

Barclays Bank plc

Sort Code: 20-71-74

Account: 60420255

Account Name: Graham Budd Auctions Ltd

IBAN: GB64BARC20717460420255

SWIFT/BIC: BARCGB22

Collection or delivery or lots

On receipt of cleared funds, lots can be collected from the venue on the evening of the auction. Thereafter GBA can supply competitive quotations for the delivery of uncollected lots, including packing and shipping on a worldwide basis. Arrangements should be made within 14 days of the auction. Thereafter the auctioneer reserves the right to apply storage charges on uncollected purchases.


Conduct of the Auction

The auctioneer will commence the bidding at the "starting bid" as published in the auction catalogue and advance the bidding in such increments as he considers appropriate. The contract between the buyer and the seller is concluded on the striking of the auctioneer's hammer. The auctioneer shall have discretion to refuse bids, withdraw or re-offer for lots for sale (including after the fall of the hammer) if he believes that there may have been an error or dispute, and may also take such other action as he reasonably deems necessary. Title in a lot will not pass to the buyer until GBA has received the purchase price in cleared funds.

Remedies for non-payment

Without prejudice to any rights that the seller may have, if the buyer fails to make payment for the lot, GBA may in its sole discretion exercise one or more of the following remedies:-

(a) cancel the sale of the lot;

(b) charge interest at 4% per annum above The Bank of England's Base Rate from the payment date to the date that the purchase price is received in cleared funds;

(c) re-sell the lot by auction or privately, with the new sale price at GBA's discretion, in which case the buyer will be liable for any shortfall between the original purchase price and the amount achieved on re-sale;

(d) commence legal proceedings to recover the purchase price for the lot, plus interest and legal costs;

(e) disclose the Buyer's details to the seller to enable the seller to commence legal proceedings.

Data Protection

GBA will use information supplied by bidders or otherwise obtained lawfully by GBA for the provision of auction related services, client administration, marketing and as otherwise required by law. By agreeing to these Conditions of Business, the bidder agrees to the processing of their personal information and to the disclosure of such information to third parties world-wide for the purposes outlined in the above service provisions, and to the seller solely in the event on non-payment.

Miscellaneous

a) All images of lots, catalogue descriptions and all other materials produced by GBA are the copyright of GBA.

b) These Conditions of Business shall be interpreted in accordance with English Law, under the exclusive jurisdiction of the English Courts, in favour of GBA.


Four Sessions

Monday 10th November 10.30am. Lots 1-334
Monday 10th November 2pm. Lots 335-684
Tuesday 11th November 10.30am. Lots 685-989
Tuesday 11th November 2pm. Lots 990-1223


Buyers Premium: 17.5% + 3% saleroom.com commission
Lots purchased online with the-saleroom.com will attract an additional charge for this service in the sum of 3% of the hammer price plus VAT at the rate imposed

Buyers Premium:
A buyers premium of 17.5% is applicable to all lots in this sale.
The buyers premium is subject to VAT at the standard rate (20%). Lots are normally offered for sale under the auctioneers margin scheme and VAT on the buyers premium is payable to all buyers. Lots subject to VAT will include the symbol †.
These items will be charged at the 20% on both the hammer price and the buyers premium

Artists Resale Rights:
Purchase of lots marked with the † will be subject to payment of the Artist's Resale Rights, at a percentage of the hammer price

Shipping:
On receipt of cleared funds lots can be collected from the Sotheby's saleroom on sale day. Thereafter lots will be transferred to storage in Enfield, north London, where they can be collected in person. Alternatively, we ship worldwide. Please contact the auctioneer for further details.