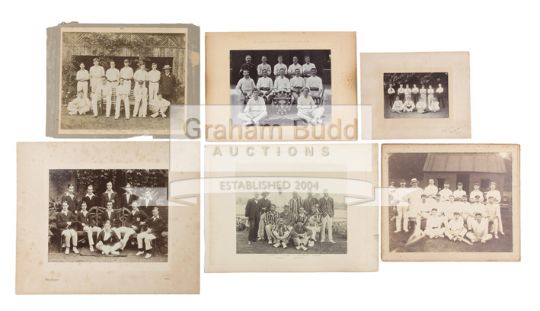 Click on the image to see full size
Use mouse wheel or two fingers to zoom in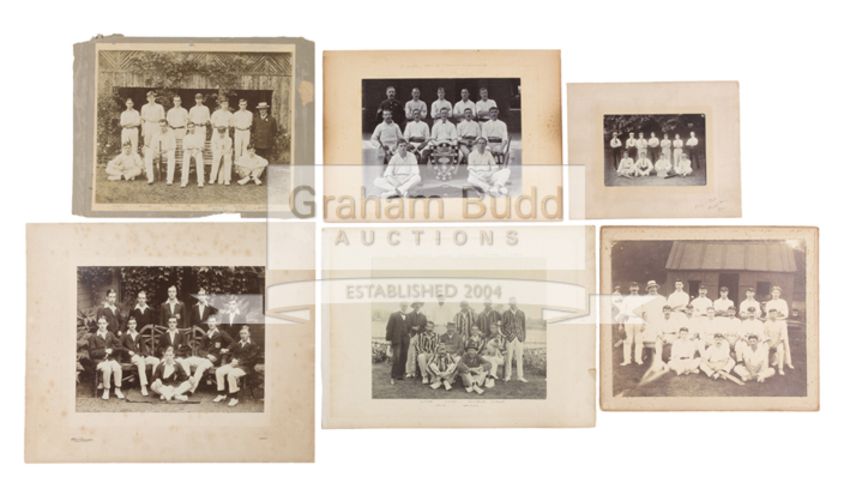 Live auction
Lot closed
Lot location
London
Six vintage cricket team photographs,including yoith sides, plus Royal Marin Artillery with a trophy shield dated 1891, another bearing a date of 1902, another identified with a label as Wilderness Cricket Club, Seal, Sevenoaks, one titled Chetnole Chappies CC 1908 v Chard, and the Harrow School team, all matted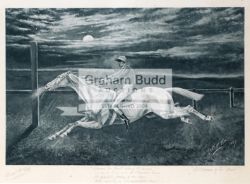 Venue address
Administration Office
P.O. Box 47519
London
N14 6XD
United Kingdom
Sporting Memorabilia
Horse Racing, Polo, Cricket, Golf, Rugby, Tennis, Olympic Games, Boxing, Motor Sport, Football (soccer) and other popular sports
Auction dates
Nov 04, 2019 10:00 AM GMT
Lots: 1 to 729
Nov 05, 2019 10:00 AM GMT
Lots: 730 to 1500
Viewing dates
Nov 03, 2019 12:00 PM - 05:00 PM GMT
Nov 04, 2019 09:00 AM - 05:00 PM GMT
Nov 05, 2019 09:00 AM - 05:00 PM GMT
| | |
| --- | --- |
| Auction currency | GBP |
| Accepted cards | |
STORAGE, COLLECTION AND SHIPPING LOGISTICS
Payments in person can be made in the saleroom on the day of the auction and on receipt of cleared funds, lots can be collected from the saleroom during the auction or immediately after its completion.
Thereafter, all purchase lots will be transferred to Graham Budd Auctions' storage facility in Enfield, north London. Please contact the auctioneer for full details. All collections are strictly by pre-arranged appointment. Alternatively, we can organise packing for postage and shipping on a worldwide basis. Please contact us for a quote. Buyers are reminded that it is their responsibility to comply with UK export regulations and with any local import requirements.
IMPORTANT INFORMATION FOR BIDDERS & BUYERS
Conditions of Business
All lots are offered subject to Graham Budd Auctions Ltd's (GBA) Conditions of Business.
Starting Bid
For each lot there is a published minimum starting bid.
Buyer's Premium & VAT
A buyers premium of 17.5% is applicable to all lots in this sale. The buyers premium is subject to VAT at the standard rate (20%). Lots are normally offered for sale under the auctioneers margin scheme and VAT on the buyers premium is payable to all buyers. Lots subject to VAT will include the symbol †.</b> These items will be charged at the 20% on both the hammer price and the buyers premium
Pre-Sale Viewing
For invited guests to the event, all lots will be available for viewing prior to the auction. Absentee bidders should contact the auctioneer if further information is required.
Bidding in Person
To bid in person, invited guests must register to obtain a bidding number. Before the auction, registration forms will be provided and upon completion you will be given a numbered bidding paddle. All lots sold will be invoiced to the name and address in which the paddle has been registered. Please hand back the paddle to a member of staff after use.
Absentee bidders
The auctioneer will be accepting bids from absentee bidders. All bids must be submitted in writing in good time by post, fax or e-mail. Additionally, there will be a telephone bidding facility, but subject always to the availability of lines & staffing. These services are offered free of charge and are subject to our Conditions of Business, which can be read in full at our website www.grahambuddauctions.co.uk. Please contact the auctioneer if you require further information.
Online Bidding
The auctioneer will also offer an online bidding service. Successful online bids are subject to an additional 3% charge plus VAT on the hammer price. In completing the bidder registration on www.the-saleroom.com and providing your credit card details and unless alternative arrangements are agreed with GBA you: authorise GBA, if they so wish, to charge the credit card given in part or full payment, including all fees, for items successfully purchased in the auction via the-saleroom.com, and confirm that you are authorised to provide these credit card details to GBA through www.the-saleroom.com and agree that GBA are entitled to ship the goods to the card holder name and card holder address provided in fulfilment of the sale.
Payment
Payment is due in sterling immediately after the sale and before purchases can be released. Payments in person can be made in the saleroom immediately after the auction, after this payments must be made by post, card transactions by telephone or electronic transfer to our bank.
Methods of Payment
Graham Budd Auctions Ltd welcome the following Methods of Payment:
Credit/Debit Card
We are pleased to accept major credit cards (regrettably we are unable to accept American Express card payments), for which a surcharge will be made of 3% of the transaction total. This is to cover the charge made to us by our bank. There is no charge for payments made by debit card.
Sterling Bankers Draft or Building Society Sterling Cheque
Drawn on a recognised UK bank or building society. Please note that the auctioneer requires seven days to clear sterling cheques and we always reserve the right to hold goods until a cheque is cleared. This policy can only be overridden if the auctioneer receives authority otherwise from the Charity for which it is acting as agent in this auction.
Cash
Cash payments will be accepted up to a maximum of £6,000.
Electronic Transfer
Our bank details are:
Barclays Bank plc
Sort Code: 20-71-74
Account: 60420255
Account Name: Graham Budd Auctions Ltd
IBAN: GB64BARC20717460420255
SWIFT/BIC: BARCGB22
Paypal
Paypal payments can be made to gb@grahambuddauctions.co.uk. Please contact the auctioneer to be notified of the Paypal charge that will need to be added to the invoice total.
Collection or delivery or lots
On receipt of cleared funds, lots can be collected from the saleroom. On the evening after the conclusion of the auctuon, lots will be packed and transported to the auctioneer's premises in Enfield, north London. Lots can be paid for and collected there by prior arrangement with the auctioneer. Alternatively GBA can supply competitive quotations for the delivery of uncollected lots, including packing and shipping on a worldwide basis. Arrangements should be made within 14 days of the auction. Thereafter the auctioneer reserves the right to apply storage charges on uncollected purchases.
Conduct of the Auction
The auctioneer will commence the bidding at the "starting bid" as published in the auction catalogue and advance the bidding in such increments as he considers appropriate. The contract between the buyer and the seller is concluded on the striking of the auctioneer's hammer. The auctioneer shall have discretion to refuse bids, withdraw or re-offer for lots for sale (including after the fall of the hammer) if he believes that there may have been an error or dispute, and may also take such other action as he reasonably deems necessary. Title in a lot will not pass to the buyer until GBA has received the purchase price in cleared funds.
Remedies for non-payment
Without prejudice to any rights that the seller may have, if the buyer fails to make payment for the lot, GBA may in its sole discretion exercise one or more of the following remedies:-
(a) cancel the sale of the lot;
(b) charge interest at 4% per annum above The Bank of England's Base Rate from the payment date to the date that the purchase price is received in cleared funds;
(c) re-sell the lot by auction or privately, with the new sale price at GBA's discretion, in which case the buyer will be liable for any shortfall between the original purchase price and the amount achieved on re-sale;
(d) commence legal proceedings to recover the purchase price for the lot, plus interest and legal costs;
(e) disclose the Buyer's details to the seller to enable the seller to commence legal proceedings.
Data Protection
GBA will use information supplied by bidders or otherwise obtained lawfully by GBA for the provision of auction related services, client administration, marketing and as otherwise required by law. By agreeing to these Conditions of Business, the bidder agrees to the processing of their personal information and to the disclosure of such information to third parties world-wide for the purposes outlined in the above service provisions, and to the seller solely in the event on non-payment.
Miscellaneous
a) All images of lots, catalogue descriptions and all other materials produced by GBA are the copyright of GBA.
b) These Conditions of Business shall be interpreted in accordance with English Law, under the exclusive jurisdiction of the English Courts, in favour of GBA.
To be sold by auction at:
Sotheby's, Upper Grosvenor Gallery, 34-35 New Bond Street, London, W1A 2AA.
Days of Sale:
Monday 4th November 2019.
10.00am & 2.30pm.
Tuesday 5th November 2019.
10.00am & 2.30pm
Public Exhibition
Sotheby's, Lower Grosvenor Gallery, 34-35 New Bond Street, London, W1A 2AA.
Sunday 3rd November 2019
12 noon to 5pm.
Monday 4th November 2019
9am to 5pm.
Tuesday 5th November 2019
9am and to the conclusion of the auction.
SESSION ONE
Monday 4th November
Starting at 10.00am
Lots 1 to 119 Horse Racing
Lots 120 to 127 Equestrian Sports
Lots 128 to 146 Polo
Lots 147 to 231 Cricket
Lots 232 to 303 Golf
Lots 304 to 306 Rugby League
Lots 307 to 359 Rugby Union
SESSION TWO
Monday 4th November
Starting at 2.30pm
Lots 360 to 371 Mixed Sporting Content
Lots 372 to 373 Baseball
Lots 375 to 378 Snooker
Lot 379 Darts
Lots 380 to 383 Cycling
Lot 384 Rowing
Lots 385 to 386 Field Hockey
Lots 387 to 391 Croquet
Lots 392 to 568 Tennis & Racquet Sports
Lots 569 to 665 Olympic Games & Athletics
Lots 666 to 729 Boxing
SESSION THREE
Tuesday 5th November
Starting at 10.00am
Lots 730 to 788 Motor Sports
Lots 789 to 1110 Football (soccer)
SESSION FOUR
Tuesday 5th November
Starting at 2.30pm
Lots 1111 to 1500 Football (soccer) ctd.